Friendly Geese is a quilt from my book
Beautiful Building Block Quilts
It was made from a pack of Kona Cotton fat quarters. These are a great way to get a variety of colour coordinated solids in useable amounts.
For this quilt I used the Denim Colourway which ranged from white to darkest indigo. I also used a few metres of one of the colours in the set - Marine so it toned in. There are 22 fq in this set but there is nothing stopping you creating your own colour palette of fq (or half the number of 1/2m pieces). It is a great stashbuster quilt. Or of course you can do it in my
hand dyed fabrics.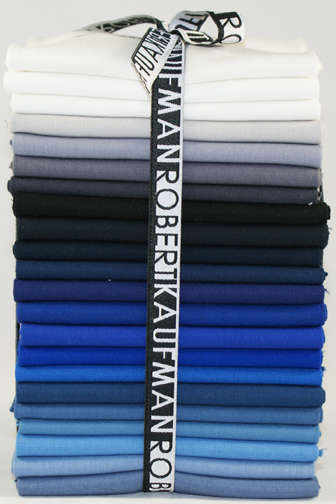 It is a very simple yet striking design using a Flying Geese block. Usually they are stacked on top of each other but I turned them around to make a sort of square in a square block.
There are only two sizes - 4in and 8in finished blocks.
Why the name? Well these geese are facing each other rather than stacked so I thought they were friendlier.
This smaller version is made up with a selection of my hand dyed fabrics and give a softer effect - but just as easy to make. This was made up with a set of my hand dyed half metres and there are many different colourways available on my
website
.